[fusion_builder_container hundred_percent="no" hundred_percent_height="no" hundred_percent_height_scroll="no" hundred_percent_height_center_content="yes" equal_height_columns="no" hide_on_mobile="small-visibility,medium-visibility,large-visibility" status="published" gradient_type="linear" gradient_direction="0deg" gradient_force="yes" border_style="solid" padding_top="0px" gradient_start_position="0" gradient_end_position="100" radial_direction="center center" linear_angle="180" background_position="right top" background_repeat="repeat" fade="no" background_parallax="down" enable_mobile="no" parallax_speed="0.3" background_blend_mode="none" video_aspect_ratio="16:9" video_loop="yes" video_mute="yes" filter_hue="0" filter_saturation="100" filter_brightness="100" filter_contrast="100" filter_invert="0" filter_sepia="0" filter_opacity="100" filter_blur="0" filter_hue_hover="0" filter_saturation_hover="100" filter_brightness_hover="100" filter_contrast_hover="100" filter_invert_hover="0" filter_sepia_hover="0" filter_opacity_hover="100" filter_blur_hover="0" admin_toggled="no" flex_column_spacing="0px" type="legacy" padding_right="50" background_image="https://rankandrent.club/wp-content/uploads/2020/01/bg-fade-scaled.jpg" admin_label="HERC & MESSAGE" padding_bottom="0px" margin_bottom="0px"][fusion_builder_row][fusion_builder_column type="1_1" type="1_1" layout="1_1" gradient_top_color="" gradient_bottom_color="" gradient_type="linear" gradient_direction="0deg" gradient_force="yes" fbme_roles="" spacing="" center_content="no" link="" target="_self" min_height="" hide_on_mobile="small-visibility,medium-visibility,large-visibility" class="" id="" hover_type="none" border_color="" border_style="solid" border_position="all" border_radius="" box_shadow="no" dimension_box_shadow="" box_shadow_blur="0" box_shadow_spread="0" box_shadow_color="" box_shadow_style="" padding_top="39px" padding_right="0%" padding_bottom="0px" padding_left="0%" margin_top="" margin_bottom="0px" background_type="single" gradient_start_color="" gradient_end_color="" gradient_start_position="0" gradient_end_position="100" radial_direction="center center" linear_angle="180" background_color="" background_image="https://rankandrent.club/wp-content/uploads/2020/06/herc-pbn.png" background_image_id="" background_position="right top" background_repeat="repeat-y" background_blend_mode="none" animation_type="" animation_direction="left" animation_speed="0.3" animation_offset="" filter_type="regular" filter_hue="0" filter_saturation="100" filter_brightness="100" filter_contrast="100" filter_invert="0" filter_sepia="0" filter_opacity="100" filter_blur="0" filter_hue_hover="0" filter_saturation_hover="100" filter_brightness_hover="100" filter_contrast_hover="100" filter_invert_hover="0" filter_sepia_hover="0" filter_opacity_hover="100" filter_blur_hover="0" last="true" border_sizes_top="0px" border_sizes_bottom="0px" border_sizes_left="0px" border_sizes_right="0px" first="true"][fusion_title fbme_roles="" title_type="text" rotation_effect="bounceIn" display_time="1200" highlight_effect="circle" loop_animation="off" highlight_width="9" highlight_top_margin="0" before_text="" rotation_text="" highlight_text="" after_text="" hide_on_mobile="small-visibility,medium-visibility,large-visibility" class="" id="" content_align="left" size="1" font_size="" animated_font_size="" fusion_font_family_title_font="" fusion_font_subset_title_font="" fusion_font_variant_title_font="" line_height="" letter_spacing="" margin_top="" margin_bottom="0px" margin_top_mobile="" margin_bottom_mobile="0px" text_color="#ffffff" animated_text_color="" highlight_color="" style_type="default" sep_color="" animation_type="" animation_direction="left" animation_speed="0.3" animation_offset="" margin_top_small="" margin_bottom_small=""]Watch The Replay Below To See How LocalReputor Helps
With GMB Management, Review Automation & GMB Offers!
[/fusion_title][fusion_title fbme_roles="" title_type="text" rotation_effect="bounceIn" display_time="1200" highlight_effect="circle" loop_animation="off" highlight_width="9" highlight_top_margin="0" before_text="" rotation_text="" highlight_text="" after_text="" content_align_medium="" content_align_small="" content_align="left" size="2" font_size="" animated_font_size="" line_height="" letter_spacing="" dimensions_medium="" dimensions_small="" text_color="#25aae0" animated_text_color="" highlight_color="" style_type="default" sep_color="" animation_type="" animation_direction="left" animation_speed="0.3" animation_offset="" hide_on_mobile="small-visibility,medium-visibility,large-visibility" sticky_display="normal,sticky" class="" id="" fusion_font_variant_title_font="" /][iee_animated_dividers fbme_roles="" type="waveLeftBg" height="70" mobile_height="60" background_color="#ffffff" background_color_top="" z_index="1" margin_top="" hide_on_mobile="small-visibility,medium-visibility,large-visibility" class="" id="" /][/fusion_builder_column][/fusion_builder_row][/fusion_builder_container][fusion_builder_container enable_background_slider="no" elegant_transition_effect="fade" elegant_background_scale="cover" gradient_type="linear" gradient_direction="0deg" gradient_force="yes" type="flex" hundred_percent="no" hundred_percent_height="no" hundred_percent_height_scroll="no" align_content="stretch" flex_align_items="flex-start" flex_justify_content="flex-start" hundred_percent_height_center_content="yes" equal_height_columns="no" container_tag="div" hide_on_mobile="small-visibility,medium-visibility,large-visibility" status="published" border_style="solid" box_shadow="no" box_shadow_blur="0" box_shadow_spread="0" gradient_start_position="0" gradient_end_position="100" radial_direction="center center" linear_angle="180" background_position="center center" background_repeat="no-repeat" fade="no" background_parallax="none" enable_mobile="no" parallax_speed="0.3" background_blend_mode="none" video_aspect_ratio="16:9" video_loop="yes" video_mute="yes" absolute="off" absolute_devices="small,medium,large" sticky="off" sticky_devices="small-visibility,medium-visibility,large-visibility" sticky_transition_offset="0" scroll_offset="0" animation_direction="left" animation_speed="0.3" filter_hue="0" filter_saturation="100" filter_brightness="100" filter_contrast="100" filter_invert="0" filter_sepia="0" filter_opacity="100" filter_blur="0" filter_hue_hover="0" filter_saturation_hover="100" filter_brightness_hover="100" filter_contrast_hover="100" filter_invert_hover="0" filter_sepia_hover="0" filter_opacity_hover="100" filter_blur_hover="0" admin_label="SOCIAL SHOUTOUT DESKTOP" admin_toggled="yes" gradient_start_color="#ffffff" margin_top="0px" gradient_end_color="#f4f4f4"][fusion_builder_row][fusion_builder_column type="1_1" type="1_1" layout="1_1" enable_background_slider="no" image_ids="" elegant_transition_effect="fade" elegant_background_scale="cover" elegant_transition_delay="3" gradient_top_color="" gradient_bottom_color="" gradient_type="linear" gradient_direction="0deg" gradient_force="yes" fbme_roles="" align_self="auto" content_layout="column" align_content="flex-start" content_wrap="wrap" spacing="" center_content="no" link="" target="_self" min_height="" hide_on_mobile="small-visibility,medium-visibility,large-visibility" sticky_display="normal,sticky" class="" id="" type_medium="" type_small="" order_medium="0" order_small="0" dimension_spacing_medium="" dimension_spacing_small="" dimension_spacing="" dimension_margin_medium="" dimension_margin_small="" margin_top="" margin_bottom="30px" padding_medium="" padding_small="" padding_top="24px" padding_right="" padding_bottom="0px" padding_left="" hover_type="none" border_sizes="" border_color="" border_style="solid" border_radius="" box_shadow="no" dimension_box_shadow="" box_shadow_blur="0" box_shadow_spread="0" box_shadow_color="" box_shadow_style="" background_type="single" gradient_start_color="" gradient_end_color="" gradient_start_position="0" gradient_end_position="100" radial_direction="center center" linear_angle="180" background_color="" background_image="" background_image_id="" background_position="left top" background_repeat="no-repeat" background_blend_mode="none" animation_type="" animation_direction="left" animation_speed="0.3" animation_offset="" filter_type="regular" filter_hue="0" filter_saturation="100" filter_brightness="100" filter_contrast="100" filter_invert="0" filter_sepia="0" filter_opacity="100" filter_blur="0" filter_hue_hover="0" filter_saturation_hover="100" filter_brightness_hover="100" filter_contrast_hover="100" filter_invert_hover="0" filter_sepia_hover="0" filter_opacity_hover="100" filter_blur_hover="0" last="true" border_position="all" first="true" spacing_left="0%" spacing_right="0%"][fusion_imageframe fbme_roles="" image_id="9460|full" max_width="400px" sticky_max_width="" style_type="" blur="" stylecolor="" hover_type="none" bordersize="" bordercolor="" borderradius="" align_medium="none" align_small="none" align="center" lightbox="no" gallery_id="" lightbox_image="" lightbox_image_id="" alt="" link="" linktarget="_self" animation_type="" animation_direction="left" animation_speed="0.3" animation_offset="" hide_on_mobile="small-visibility,medium-visibility,large-visibility" sticky_display="normal,sticky" class="" id="" filter_hue="0" filter_saturation="100" filter_brightness="100" filter_contrast="100" filter_invert="0" filter_sepia="0" filter_opacity="100" filter_blur="0" filter_hue_hover="0" filter_saturation_hover="100" filter_brightness_hover="100" filter_contrast_hover="100" filter_invert_hover="0" filter_sepia_hover="0" filter_opacity_hover="100" filter_blur_hover="0" margin_bottom="20" margin_top="-20"]https://rankandrent.club/wp-content/uploads/2021/01/local-reputor-1.png[/fusion_imageframe][fusion_youtube fbme_roles="" id="91LkP1YZX7Q" alignment="center" autoplay="false" api_params="" hide_on_mobile="small-visibility,medium-visibility,large-visibility" class="" css_id="" width="1280" height="720" /][/fusion_builder_column][fusion_builder_column type="1_2" type="1_2" layout="1_1" enable_background_slider="no" image_ids="" elegant_transition_effect="fade" elegant_background_scale="cover" elegant_transition_delay="3" gradient_top_color="" gradient_bottom_color="" gradient_type="linear" gradient_direction="0deg" gradient_force="yes" fbme_roles="" align_self="auto" content_layout="column" align_content="flex-start" content_wrap="wrap" spacing="" center_content="no" link="" target="_self" min_height="" hide_on_mobile="small-visibility,medium-visibility,large-visibility" sticky_display="normal,sticky" class="" id="" type_medium="" type_small="" order_medium="0" order_small="0" dimension_spacing_medium="" dimension_spacing_small="" dimension_spacing="" dimension_margin_medium="" dimension_margin_small="" margin_top="" margin_bottom="" padding_medium="" padding_small="" padding_top="20" padding_right="" padding_bottom="20" padding_left="" hover_type="none" border_sizes="" border_color="#c9c9c9" border_style="solid" border_radius="" box_shadow="yes" dimension_box_shadow="" box_shadow_blur="10" box_shadow_spread="-5" box_shadow_color="" box_shadow_style="" background_type="single" gradient_start_color="" gradient_end_color="" gradient_start_position="0" gradient_end_position="100" radial_direction="center center" linear_angle="180" background_color="#ffffff" background_image="" background_image_id="" background_position="left top" background_repeat="no-repeat" background_blend_mode="none" animation_type="" animation_direction="left" animation_speed="0.3" animation_offset="" filter_type="regular" filter_hue="0" filter_saturation="100" filter_brightness="100" filter_contrast="100" filter_invert="0" filter_sepia="0" filter_opacity="100" filter_blur="0" filter_hue_hover="0" filter_saturation_hover="100" filter_brightness_hover="100" filter_contrast_hover="100" filter_invert_hover="0" filter_sepia_hover="0" filter_opacity_hover="100" filter_blur_hover="0" last="true" border_position="all" first="true" border_sizes_top="1" border_sizes_right="1" border_sizes_bottom="1" border_sizes_left="1" border_radius_top_left="40" border_radius_top_right="40" border_radius_bottom_right="40" border_radius_bottom_left="40" box_shadow_vertical="5" box_shadow_horizontal="0"][fusion_text fbme_roles="" columns="" column_min_width="" column_spacing="" rule_style="default" rule_size="" rule_color="" font_size="" line_height="" letter_spacing="" text_color="" content_alignment_medium="" content_alignment_small="" content_alignment="center" animation_type="" animation_direction="left" animation_speed="0.3" animation_offset="" hide_on_mobile="small-visibility,medium-visibility,large-visibility" sticky_display="normal,sticky" class="" id="" fusion_font_variant_text_font=""]
Get LocalReputor
Only $57
[/fusion_text][iee_fancy_button fbme_roles="" button_title="LOCAL REPUTOR ONLY" style="swipe" button_icon="fa-mouse-pointer fas" icon_position="left" action="custom_link" image_block_class_name="" custom_link="https://toddspears.com/localreputor" target="_blank" lightbox_image_url="" lightbox_video_url="" modal_name="" color="#ff9800" color_hover="#8bc34a" background="" size="xlarge" shape="round" margin="0px" alignment="center" element_typography="custom" typography_button_title="" title_font_size="28" hide_on_mobile="small-visibility,medium-visibility,large-visibility" class="" id="" /][/fusion_builder_column][fusion_builder_column type="1_2" type="1_2" layout="1_1" enable_background_slider="no" image_ids="" elegant_transition_effect="fade" elegant_background_scale="cover" elegant_transition_delay="3" gradient_top_color="" gradient_bottom_color="" gradient_type="linear" gradient_direction="0deg" gradient_force="yes" fbme_roles="" align_self="auto" content_layout="column" align_content="flex-start" content_wrap="wrap" spacing="" center_content="no" link="" target="_self" min_height="" hide_on_mobile="small-visibility,medium-visibility,large-visibility" sticky_display="normal,sticky" class="" id="" type_medium="" type_small="" order_medium="0" order_small="0" dimension_spacing_medium="" dimension_spacing_small="" dimension_spacing="" dimension_margin_medium="" dimension_margin_small="" margin_top="" margin_bottom="" padding_medium="" padding_small="" padding_top="20" padding_right="" padding_bottom="20" padding_left="" hover_type="none" border_sizes="" border_color="#c9c9c9" border_style="solid" border_radius="" box_shadow="yes" dimension_box_shadow="" box_shadow_blur="10" box_shadow_spread="-5" box_shadow_color="" box_shadow_style="" background_type="single" gradient_start_color="" gradient_end_color="" gradient_start_position="0" gradient_end_position="100" radial_direction="center center" linear_angle="180" background_color="#ffffff" background_image="" background_image_id="" background_position="left top" background_repeat="no-repeat" background_blend_mode="none" animation_type="" animation_direction="left" animation_speed="0.3" animation_offset="" filter_type="regular" filter_hue="0" filter_saturation="100" filter_brightness="100" filter_contrast="100" filter_invert="0" filter_sepia="0" filter_opacity="100" filter_blur="0" filter_hue_hover="0" filter_saturation_hover="100" filter_brightness_hover="100" filter_contrast_hover="100" filter_invert_hover="0" filter_sepia_hover="0" filter_opacity_hover="100" filter_blur_hover="0" last="true" border_position="all" first="true" border_sizes_top="1" border_sizes_right="1" border_sizes_bottom="1" border_sizes_left="1" border_radius_top_left="40" border_radius_top_right="40" border_radius_bottom_right="40" border_radius_bottom_left="40" box_shadow_vertical="5" box_shadow_horizontal="0"][fusion_text column_min_width="" column_spacing="" rule_style="default" rule_color="" font_size="" line_height="" letter_spacing="" text_color="" content_alignment_medium="" content_alignment_small="" content_alignment="center" animation_type="" animation_direction="left" animation_speed="0.3" animation_offset="" hide_on_mobile="small-visibility,medium-visibility,large-visibility" sticky_display="normal,sticky" class="" id="" fusion_font_variant_text_font=""]Get LocalReputor Bundle
Only $247[/fusion_text][iee_fancy_button fbme_roles="" button_title="LOCAL REPUTOR BUNDLE" style="swipe" button_icon="fa-mouse-pointer fas" icon_position="left" action="custom_link" image_block_class_name="" custom_link="https://toddspears.com/bundle" target="_blank" lightbox_image_url="" lightbox_video_url="" modal_name="" color="#ff9800" color_hover="#8bc34a" background="" size="xlarge" shape="round" margin="0px" alignment="center" element_typography="custom" typography_button_title="" title_font_size="28" hide_on_mobile="small-visibility,medium-visibility,large-visibility" class="" id="" /][/fusion_builder_column][fusion_builder_column type="1_1" type="1_1" layout="1_1" enable_background_slider="no" image_ids="" elegant_transition_effect="fade" elegant_background_scale="cover" elegant_transition_delay="3" gradient_top_color="" gradient_bottom_color="" gradient_type="linear" gradient_direction="0deg" gradient_force="yes" align_self="auto" content_layout="column" align_content="flex-start" content_wrap="wrap" spacing="" center_content="no" link="" target="_self" min_height="" hide_on_mobile="small-visibility,medium-visibility,large-visibility" sticky_display="normal,sticky" class="" id="" order_medium="0" order_small="0" hover_type="none" border_color="" border_style="solid" box_shadow="no" box_shadow_blur="0" box_shadow_spread="0" box_shadow_color="" box_shadow_style="" background_type="single" gradient_start_position="0" gradient_end_position="100" radial_direction="center center" linear_angle="180" background_color="" background_image="" background_image_id="" background_position="left top" background_repeat="no-repeat" background_blend_mode="none" animation_type="" animation_direction="left" animation_speed="0.3" animation_offset="" filter_type="regular" filter_hue="0" filter_saturation="100" filter_brightness="100" filter_contrast="100" filter_invert="0" filter_sepia="0" filter_opacity="100" filter_blur="0" filter_hue_hover="0" filter_saturation_hover="100" filter_brightness_hover="100" filter_contrast_hover="100" filter_invert_hover="0" filter_sepia_hover="0" filter_opacity_hover="100" filter_blur_hover="0" spacing_left="5%" spacing_right="5%" last="true" border_position="all" first="true" padding_top="55px"][fusion_accordion border_size="1" icon_size="24" hide_on_mobile="small-visibility,medium-visibility,large-visibility" type="accordions" boxed_mode="yes" title_font_size="24" hover_color="#ffffff"][fusion_toggle title="What Is LocalReputor?" open="no"]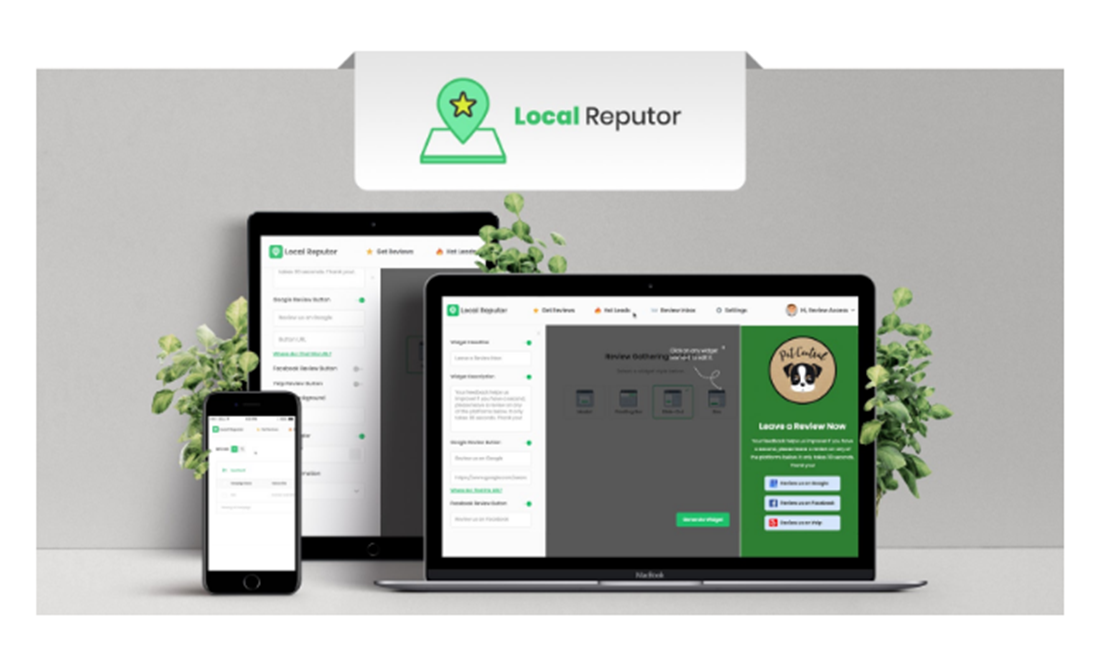 LocalReputor is a first of its kind cloud-based app that manages and enhances local businesses' reputation online with advanced, proprietary technology.

   Finally, you can run a full reputation management and enhancement agency singlehandedly and on autopilot.

   Local Reputor grows your clients' local profile listings ratings and rank on autopilot such as those of GoogleMyBusiness, Yelp, Facebook, lands clients that need reputation management services, and generates far more warmed-up leads in breakthrough ways no other app can do.

   Comes with the ability to auto-capture reviews from customers & publish them to clients GoogleMyBusiness, Yelp, & Facebook local profiles to rank them & get more leads.

   Allows you to create 4 types of local review widgets that get you reviews and ratings in different ways.

   You can also generate special cards or flyers for your clients with customized QR codes that direct customers to the business's GMB, FB, or Yelp profiles.

   Also lets you claim & manage client's GoogleMyBusiness profiles through the app & optimize them to help them rank higher in search.

   And with built-in Reputation LeadFinder you can quickly find & land targeted clients in any area in need of reputation management and enhancement

   Commercial rights, 24-7 support, fully cloud-based, advanced CRM, etc. included already at no extra cost.

   Easily one of the most comprehensive agency-grade reputation management software in the market.
[/fusion_toggle][fusion_toggle title="What Is LocalReputor Bundle?" open="no"]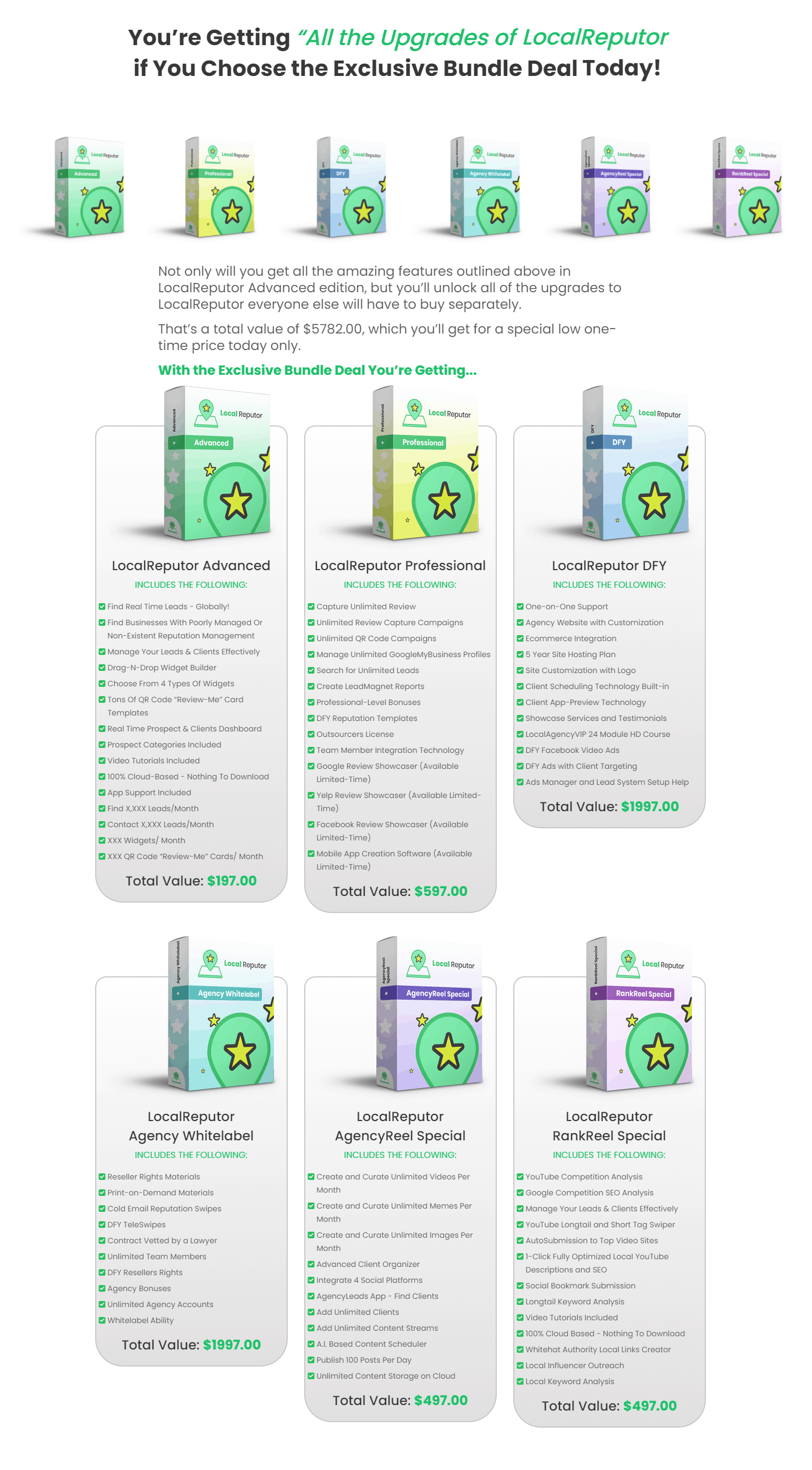 [/fusion_toggle][/fusion_accordion][/fusion_builder_column][fusion_builder_column type="1_1" type="1_1" layout="1_1" enable_background_slider="no" image_ids="" elegant_transition_effect="fade" elegant_background_scale="cover" elegant_transition_delay="3" gradient_top_color="" gradient_bottom_color="" gradient_type="linear" gradient_direction="0deg" gradient_force="yes" align_self="auto" content_layout="column" align_content="flex-start" content_wrap="wrap" spacing="" center_content="no" link="" target="_self" min_height="" hide_on_mobile="small-visibility,medium-visibility,large-visibility" sticky_display="normal,sticky" class="" id="" order_medium="0" order_small="0" hover_type="none" border_color="" border_style="solid" box_shadow="no" box_shadow_blur="0" box_shadow_spread="0" box_shadow_color="" box_shadow_style="" background_type="single" gradient_start_position="0" gradient_end_position="100" radial_direction="center center" linear_angle="180" background_color="" background_image="" background_image_id="" background_position="left top" background_repeat="no-repeat" background_blend_mode="none" animation_type="" animation_direction="left" animation_speed="0.3" animation_offset="" filter_type="regular" filter_hue="0" filter_saturation="100" filter_brightness="100" filter_contrast="100" filter_invert="0" filter_sepia="0" filter_opacity="100" filter_blur="0" filter_hue_hover="0" filter_saturation_hover="100" filter_brightness_hover="100" filter_contrast_hover="100" filter_invert_hover="0" filter_sepia_hover="0" filter_opacity_hover="100" filter_blur_hover="0" spacing_left="5%" spacing_right="5%" last="true" border_position="all" first="true"][fusion_title fbme_roles="" title_type="text" rotation_effect="bounceIn" display_time="1200" highlight_effect="circle" loop_animation="off" highlight_width="9" highlight_top_margin="0" before_text="" rotation_text="" highlight_text="" after_text="" content_align_medium="" content_align_small="" content_align="center" size="1" font_size="" animated_font_size="" line_height="" letter_spacing="" text_shadow="no" text_shadow_blur="0" text_shadow_color="" dimensions_medium="" dimensions_small="" text_color="" animated_text_color="" highlight_color="" style_type="default" sep_color="" animation_type="" animation_direction="left" animation_speed="0.3" animation_offset="" hide_on_mobile="small-visibility,medium-visibility,large-visibility" sticky_display="normal,sticky" class="" id="" fusion_font_variant_title_font="" margin_bottom="0px"]
ADDITIONAL BONUS?
[/fusion_title][fusion_title fbme_roles="" title_type="text" rotation_effect="bounceIn" display_time="1200" highlight_effect="circle" loop_animation="off" highlight_width="9" highlight_top_margin="0" before_text="" rotation_text="" highlight_text="" after_text="" content_align_medium="" content_align_small="" content_align="center" size="3" font_size="" animated_font_size="" line_height="" letter_spacing="" text_shadow="no" text_shadow_blur="0" text_shadow_color="" dimensions_medium="" dimensions_small="" text_color="" animated_text_color="" highlight_color="" style_type="default" sep_color="" animation_type="" animation_direction="left" animation_speed="0.3" animation_offset="" hide_on_mobile="small-visibility,medium-visibility,large-visibility" sticky_display="normal,sticky" class="" id="" fusion_font_variant_title_font="" margin_top="0px"]As always...[/fusion_title][fusion_accordion border_size="1" icon_size="24" hide_on_mobile="small-visibility,medium-visibility,large-visibility" type="accordions" boxed_mode="yes" title_font_size="24" hover_color="#ffffff"][fusion_toggle title="Click To View 6 Additional Bonuses" open="no"]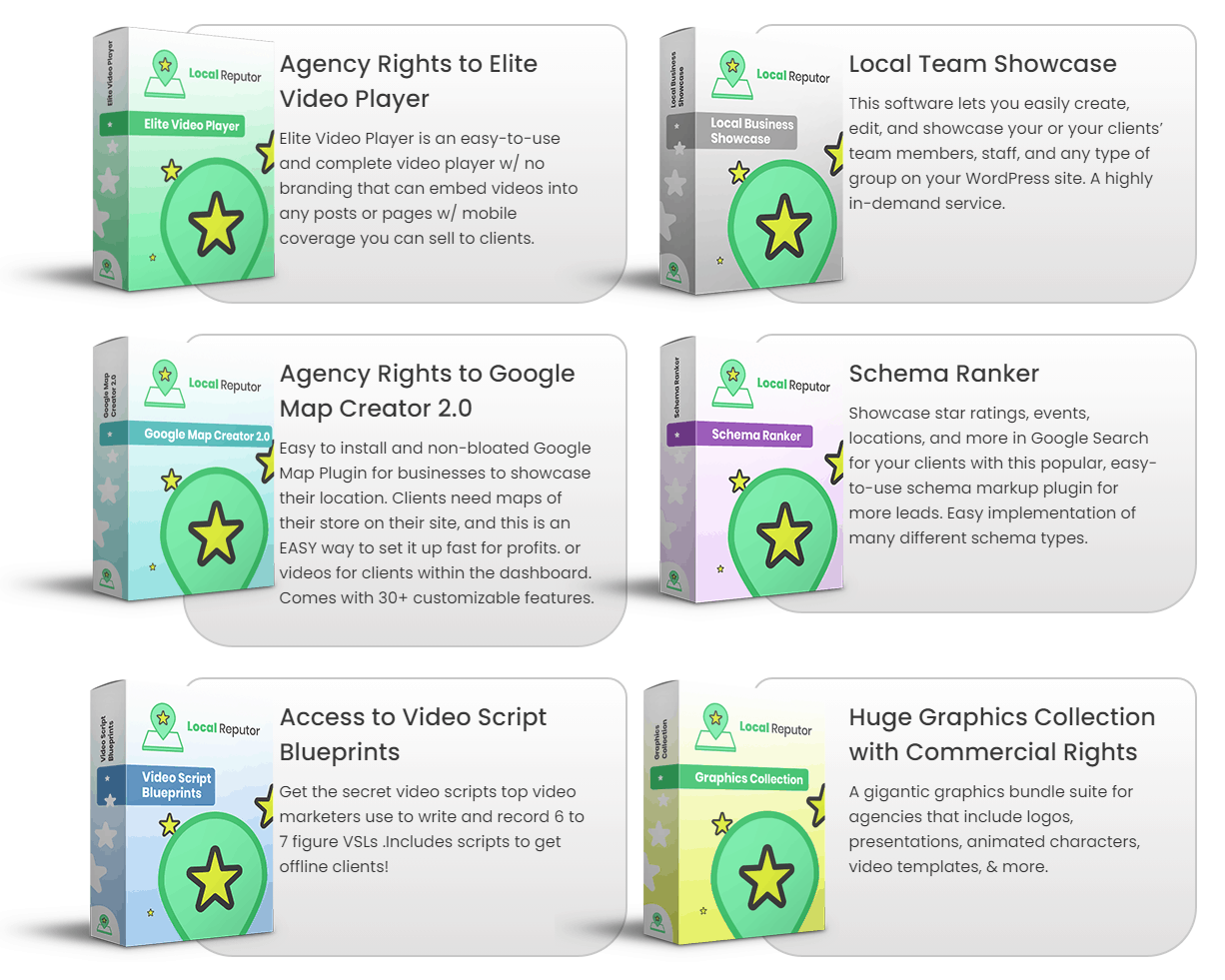 [/fusion_toggle][/fusion_accordion][fusion_section_separator divider_type="big-half-circle" divider_height_medium="" divider_height_small="" divider_height="" divider_repeat_medium="1" divider_repeat_small="1" divider_repeat="1" divider_position="left" divider_candy="top" icon="" icon_color="" bordersize="" bordercolor="" backgroundcolor="#ffffff" hide_on_mobile="small-visibility,medium-visibility,large-visibility" class="" id="" margin_top="50" /][/fusion_builder_column][/fusion_builder_row][/fusion_builder_container]